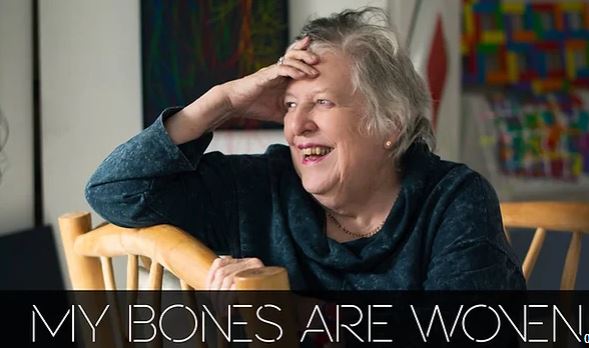 Film Screening: My Bones are Woven
To attend this event please book through this Eventbrite link My Bones are Woven – Film screening and Q/A Tickets, Tue 24 Oct 2023 at 18:45 | Eventbrite 
My Bones Are Woven is a feature length documentary about Arundel artist and weaver Ann Sutton made just before and during lockdown.
The film asks what inspires someone to start on a dramatically new venture in later life. Ann Sutton won world acclaim as a weaver and industrial textile designer working for designers like Ralph Lauren and Issey Miyake. But, aged 78, she gave up her looms and dedicated herself instead to pushing the boundaries of fine art.
In the film we see her in her 'laboratory' of a studio in Sussex working alongside her assistant Ruth to turn her endless ideas into radical creations. She is a magnet for artistic collaborators who visit to enjoy her energy and wry humour.
Suddenly Ann's world changes with curators from Britain's biggest art institutions knocking on her door. As Ruth prepares Ann's work for the Tate, she is also finalising her own packing to retire to Cornwall. At 86 Ann deals with Ruth's teary farewell in the only way she can. She is back in the studio creating what she feels is her best work yet.
The film was made by beechtobeach and co-directed by Jane Mote and Joshua Kershaw. It premiered at Chichester International Film festival before being screened in Shetland, The British Library and Portsmouth. It has just been acquired by the US distributor Good Docs and will be licensed worldwide from this Autumn. The distributor has allowed this local screening to take place as a free event with donations to Arundel Museum Society, a registered charity.
Ann Sutton will be at this screening, there will be an introductory talk followed by Q&A at the end. Refreshments will be available to buy on the evening.
Last chance to see this highly-acclaimed documentary about Arundel's great artist, Ann Sutton. Free tickets but suggest £5 donation on door.