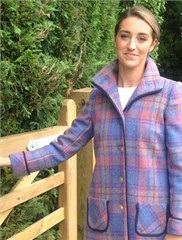 Manteaux Sale of Jackets and Coats
Manteaux Jackets and Coats sale: Jackets, blazers and coats designed and tailored in the UK and Ireland, exclusively for Manteaux using the finest fabrics from the Outer Hebrides, Abraham Moon in Yorkshire and Avoca handweavers in Ireland. With discount prices, a three day special sale. Get yourself a new warm coat for the Autumn / Winter.
Please be aware, we will keep an eye on the number of people in the Jubilee Room at one time, you may be asked to wait for a short time. This is to allow enough space for everyone to browse. Thank you for your co-operation.
The sale will be open 10-4 on Friday and Saturday. On Sunday 10.00-2.30pm.