Born on 31st January 1885 in Arundel, West Sussex, Ralph was the youngest of 7 children. The family lived in Arundel, where his father William Ellis worked as a taxidermist. He left school at the age of fourteen and joined his brother Jack in London, becoming an apprentice to a furniture designer. However, he decided that it didn't suit him and took up interior decorating and signwriting.
 In March 1910, Ralph married Gertrude Ada Seymour from Bognor Regis. Although it isn't known how they met, Ralph's daughter Margaret suspects it could have been on a visit to visiting Arundel by the Seymour family, or because of the trade connection, as Gertrude's father was a stonemason. His brother Jack also had a shop in Bognor selling art supplies, so it could have also been there that they met.
They moved to High Barnet before deciding to move back to West Sussex. They would open a shop selling decorating supplies, artist supplies, and his paintings.

During the start of the world war 1, like many young men Ralph decided to enlist and fight for his country. After encouragement from his father's landlord, the Duke of Norfolk, lord-lieutenant Ralph at the age of 29 joined the Royal Sussex Regiment, serving in the 7th Battalion in 1914. Throughout his training in England and time at war in France and Belgium Ralph used his artistic talents to record his experiences. He would sketch and paint his fellow soldiers and the war-torn scenery they came across.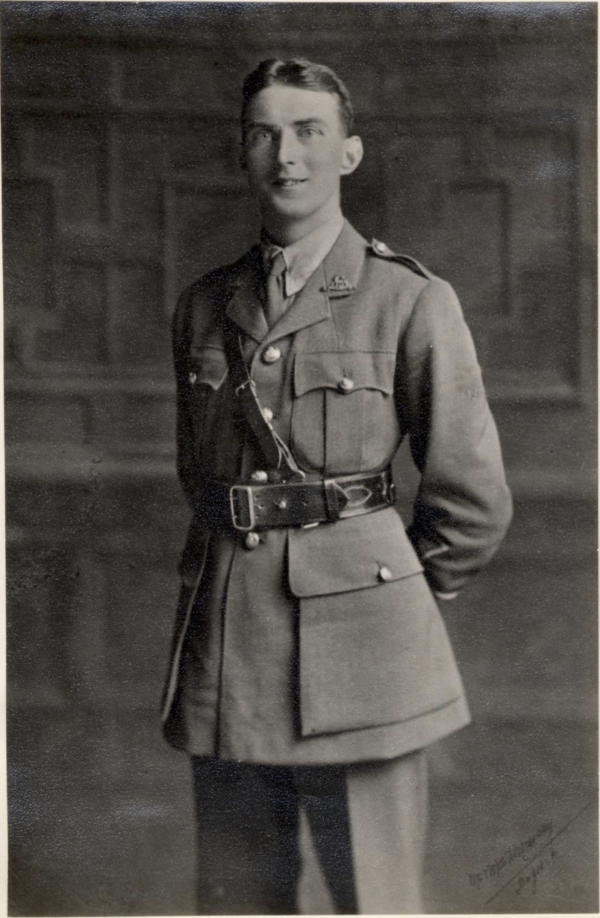 Ralph Ellis as 2nd .Lt 2nd  batt. The Queens R.S.W.Regt.
Ralph stayed with the Royal Sussex Regiment until 1916. He was asked if he would return to England to be trained as an officer. At first, he declined the offer and wanted to stay with his regiment, later finding out it wasn't a request but an order. He was appointed to the Queen's Regiment towards the end of May 1917. He went to Corcella, where he was made an Intelligence Officer, and was attached to the Battalion H.Q.
His time back in France wasn't so long as it was this time. Near Zuave Wood he faced a blow from a shell that had wounded him in the left elbow and left shrapnel in his nose. Ellis's companion had saved his life that day, making him a bandage and getting help. Another shell had landed nearby, forcing Ellis back to his feet, and with the help of another friend, made it back to the Artillery Battery. He described it as 'No pain, but a swift transition from strength to weakness'.
After his discharge from the hospital and leaving the army, Ralph Ellis had a short recovery period. During this time, he had decided to enrol at the Slade School of Art in London, where he studied for two years under Professor Tompkins. After Studying, he and Gertrude moved back to Arundel, where his father, mother, and sister lived. Ralph soon built a reputation for himself as a portrait and landscape painter specialising in design and Inn sign painting. Soon after setting up his studio space in Arundel, he came to the attention of local brewers Henty & Constable. Ralph was asked to make their old Inn signs dignified with good sensitive artwork. Some of the first signs he painted were The Foresters Arms at Littlehampton, General Abercrombie, and The Red Lion at Arundel.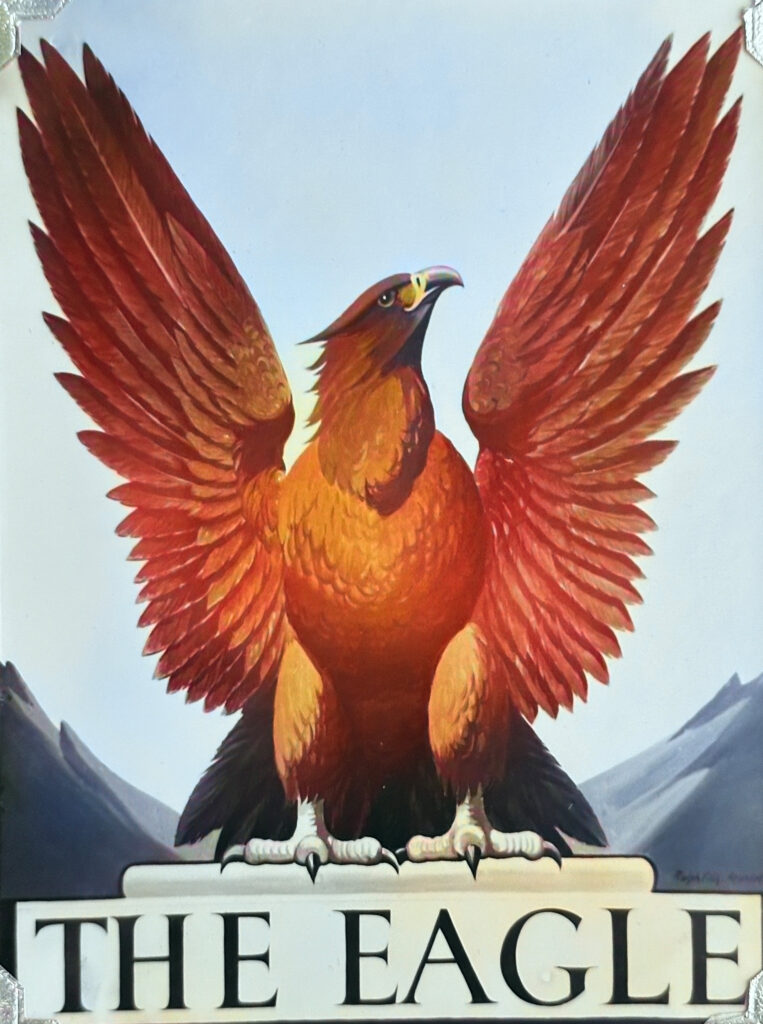 A digitally colourised photo of an  Inn Sign painted by Ralph Ellis.
As his Inn sign work developed, he found that it helped him build upon his use of colour and design, becoming more successful as a landscape painter. Ralph would view the landscape as he wanted to paint it, painting green fields and trees in a more subdued tone resembling autumn and winter periods. 
To see and learn more about his Inn sign and artistic work please visit the museum and see our Ralph Ellis exhibition starting on Thursday 16 March until Monday 1 May