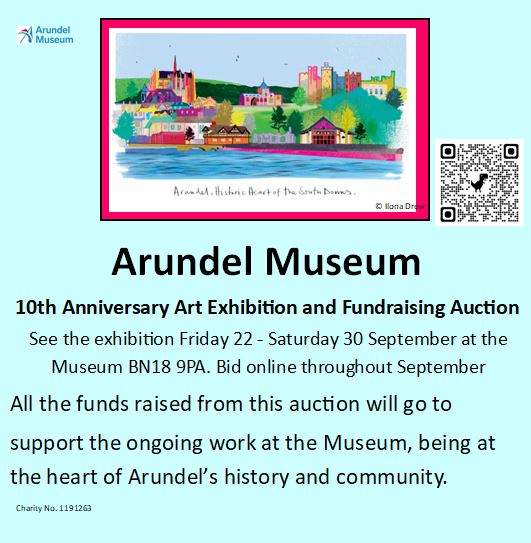 10th Anniversary Art Exhibition and Fundraising Auction
Click here to go straight to the auction site
See the Exhibition Friday 22—Saturday 30th September (open 10am – 4pm) at Arundel Museum BN18 9PA
The Exhibition is NOT OPEN Tuesday 26th September.
See the Auction Catalogue by clicking here
This is your opportunity to bid for artworks by well-known artists including Andy Waite, Josse Davis, Amy Fathers, Ilona Drew, Des Kilfeather, Jørgen Christiansen, Tom Lee and more.
Bid online by clicking here throughout September
All the funds raised from this auction will go to support the ongoing work at the Museum, being at the heart of Arundel's history and community.
Please note
A bid on an auction item is considered a commitment to purchase the item.
If you are the successful bidder on an auction item, you will be informed after the auction close. Payment for each auction item must be made in full before the item is released.
Please note, all items can be picked up from Arundel Museum, Mill Road Arundel. Should you wish the items to be posted or delivered, these costs are in addition to the bid price.