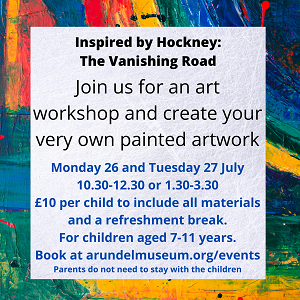 Children's Art Workshop: Inspired by Hockney – Monday 1.30-3.30pm
Children's Art Workshop
Inspired by Hockney: The Vanishing Road
Create a painted artwork, inspired by nature.
Children aged 7-11, parents can leave the children for the workshop.
£10 per child, to include all materials and a refreshment break.
This will be held in our well ventilated activity room. One child per table, with up to six children per workshop.
Tickets must be pre-booked.
There will also be the opportunity to purchase a discounted ticket to visit the museum on the day of your workshop. £2 for an adult and child admission, or £5 for a family.
Please do get in touch if you have any questions: office@arundelmuseum.org
Sold out!