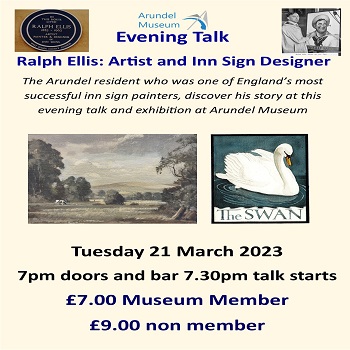 Evening Talk: Ralph Ellis Artist and Inn Sign Designer
To complement the Ralph Ellis Artist and Inn Sign designer exhibition at Arundel Museum, there will be a talk held on Tuesday 21st March  Ralph Ellis' inn sign painting career started in the 1920s and he retired in the 1950s. He painted hundreds of inn signs and was commissioned by breweries across England. Our speaker, Sue Hepburn, has researched Ralph Ellis' Great War memoir and will talk about his life before and after the Great War, and the growth of his inn sign business.
Tickets £7 Museum Member and £9 non member
7.00pm the doors and bar open 7.30pm the talk will start.
*Why not join Arundel Museum Society to support the work that the Museum does and enjoy discounted events. Details here* 
Tickets are available to buy from the Museum, or reserve a place: office@arundelmuseum.org or 01903 885866