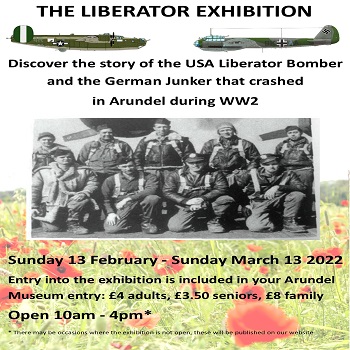 The Liberator Exhibition
Discover the story of the USA Liberator Bomber and the German Junker that crashed in Arundel during WW2
This special exhibition will feature parts of the plane as well as some eyewitness accounts of the two crashes.
The exhibition has been inspired by the two archaeological digs at the Liberator crash site, and will tell the story of the mission and the crew.
Admission is included in your entry ticket to Arundel Museum.
Entrance to the exhibition will not be available:
Monday 7 March 10am-12pm, Wednesday 9 March 10am-1pm, 16 March 10am-1pm